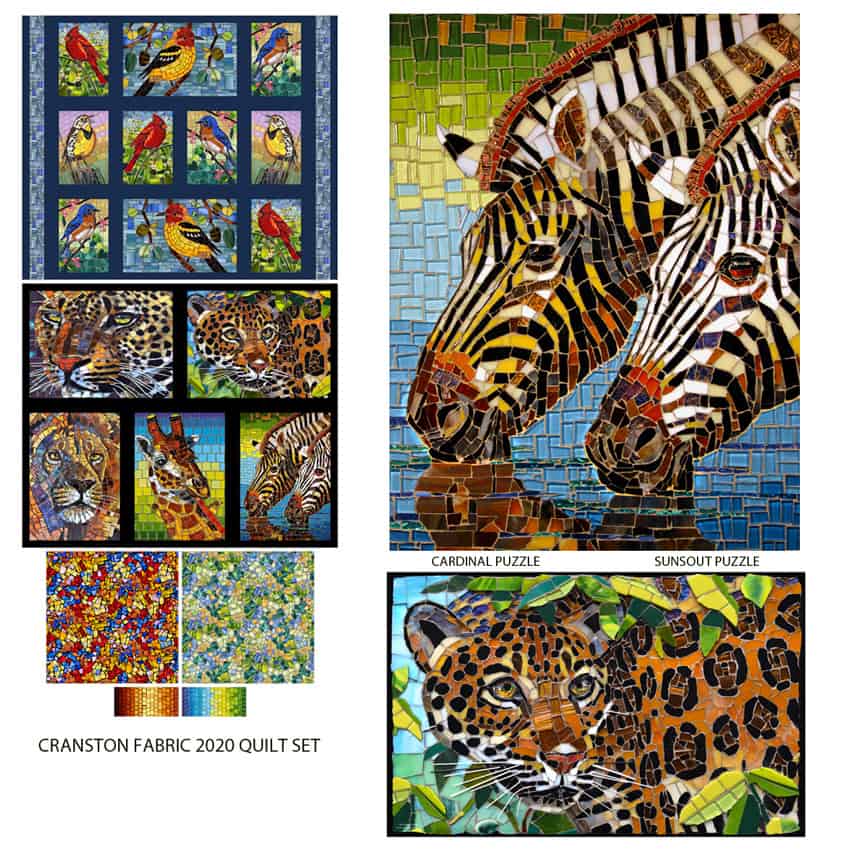 Cynthie Fisher, one of JQ Licensing's leading wildlife artists, had a big hit in late 2019 with her innovative, hand-cut glass designs. Cynthie takes individual small pieces of colored glass, which she chips off from larger pieces, and cements them onto a board. Once completed she adds grout to solidify the glass pieces in place. Jon Q Wright, president of JQ Licensing, LLC, stated "When I saw the initial glass designs she did I was a bit unsure. This to select the correct colored glass pieces to build contrast stuff was so new that I really didn't have any confidence in it yet. But once I started showing it to our puzzle licensors, they all ended up wanting some designs. We ran out of the new pieces of her mosaic art within a couple of months and I am waiting for Cynthie Fisher to generate new designs going into 2020.
 This art is very time consuming due to Cynthie having, shape and depth. I really don't know how she does it. The best way I know how to describe them is they are like a puzzle within a puzzle. The individual glass pieces witin each design make their own puzzle piece shapes. I am sure buyers of the mosaic puzzles will find building the puzzle to be a refreshing experience." Cranston Fabrics in 2020 is also releasing a quilt set of the glass designs as well.
 Aside from being one of the world's most successful and renowned wildlife artists, Cynthie has always been known as an innovator and continually comes up with new and ingenious images for JQ Licensing to show it's Licensors. JQ Licensing expects Cynthie's new Glass artwork to be in high demand for quite some time.